If you are a student, housekeeper, or employed, maybe keeping a clean house often seems like an endless cycle that you are involved in, and do not have enough energy and time to make your house spotless. Many parts of your house absorb different types of messes. But this is not an obstacle to getting things right. You should utilize smart house cleaning hacks and pay attention to a point that can fasten your work.
To make your job simpler, we prepared a list of some points of cleaning hacks in continue. Read this article carefully and share your ideas in the comments to help us to provide more useful and practical information.
House cleaning hacks 
In this part, we intend to get familiar your with the most significant points when it comes to house cleaning hacks:
1. Repurpose Dryer Sheets
Among house cleaning hacks the first is for dryer sheets. you can use dryer sheets from time to time, they act like a magic wand and clean your house very quickly, there are some practices of dryer sheets as below:
Buff water areas from mirrors, bathroom/kitchen fixtures, and shower doors
clean the ring inside the toilet
Wipe baseboards clean
2. Clean the Blender
You can clean your blender by filling it with warm water and using dish soap. Turn it on and leave it for a few seconds. After that, wash it with warm water. In the end, you will find it spotless.
3. Clean Your Sponge
Sponges are the most important materials which can play a vital role in our health so keeping sponges clean contemplate as an essential issue. They can easily transfer diseases and microbes. Therefore, you must clean them frequently. To do this, you can put the wet sponge in the microwave for thirty seconds to get rid of any possible bacteria. After that wait a minute so that it will not burn your hand then take it out. Another easy and fast solution is that you can put your sponge in the dishwasher to turn it into a clean and nice sponge.
4. Use Vinegar To Get Rid of Hard Water Spots
Vinegar is a famous technique for removing hard water spots. This method is not time-consuming and BrighteX will help you with how you can apply this technique. You only need to send us an email then our experts will respond to you as soon as possible.
5. Clean Stainless-Steel Appliances
Stainless steel appliances are an unavoidable part of our daily life. Today, many people all around the world prefer to use these kinds of appliances which are very easy to use but they get dirty normally. You can see fingerprints on them interminably. To solve this problem, you need a soft cloth or a microfiber and rubbing alcohol.
6. Clean Your Computer (Safely)
The sixth hack from seven house cleaning house is for your computer. Other inevitable tools in our homes are computers which help us to have access to a huge range of information simultaneously. Therefore, keeping clean these systems are urgent.
There are chemicals you should never apply on or anywhere near your computer as follows:
Acetone
Ethyl alcohol
Toluene
Ethyl acid
Ammonia
Methyl chloride
Tip: when you are cleaning your computer, do not forget to not use paper products or harsh chemicals and never spray products on your screen. There is a special product to clean the screen. You can go for them by clicking here.
Here's a safe and easy way to clean your computer:
To see your keyboard clean, pour some white vinegar on a microfiber cloth and scrub the keyboard entirely.
To clean your screen, take a microfiber cloth and wipe kindly in a circular movement.
Apply a combination of soft water and vinegar if it is urgent.
7. Clean the Microwave
Another dirty place is the microwave, today people tend to use microwaves frequently and this space should be clean. There is one quick solution to make your microwave shine and clean.
Pour the same amounts of water and vinegar into a microwave-safe bowl, along with a tiny wooden thing like a toothpick. Then let it be at a high degree for 4 to 8 minutes. After that, wait to be cold and prevent burning your hand. Next, when you open it, wipe down the inside of the microwave with a sponge or paper towel
Put equal amounts of water and vinegar in a microwave-safe bowl, along with a small wooden object, such as a toothpick, to prevent boiling. Then set it on high for 5 to 10 minutes. Wait a couple of minutes to let it cool, then when you open it up, all you have to do is wipe down the inside of the microwave. In the end, you can find your lovely microwave clean and nice as before.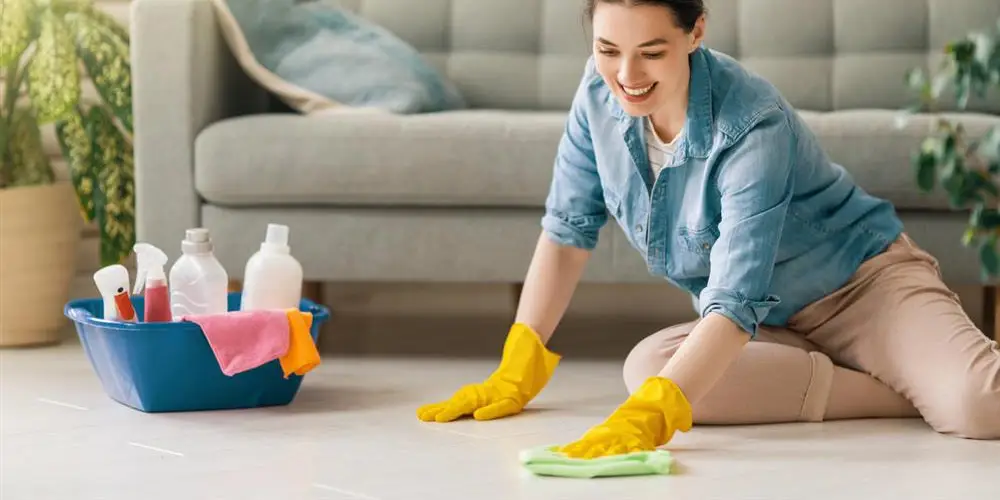 Conclusion 
Our final aim is to let you gather beneficial information about house cleaning hacks. We hope that you remember us as a platform which is valued your needs and wants. We are waiting to receive your kind messages.
Resources: nbcnews
You should pick up any toys or clothing before cleaning and find somewhere for your pets when you are cleaning.
Cleaning your microwave should not be done with harsh chemicals or abrasives. Cover food while it is heating in the microwave to keep it clean and prevent spills. Use a low power setting when heating splatter-prone foods, and clean spills immediately. If you need to clean it, use our solution.
House cleaning frequency is determined by the size, the frequency with which rooms are used, and the type of furniture and surfaces. It is necessary to clean some things every day, while a general clean can be done once a week, and a deep clean can be done every few months or yearly.