It doesn't matter if you are a first-time homeowner or you've been living in it your home for years, having the essential tools for cleaning the house is considered the first step for initiating the cleaning process. Due to the use of the right supplies and tools, you can get the best result out of your cleaning routine. But sometimes, finding the crucial tools is a challenge for some groups of people.
Therefore, in this article from Brightex, we'll look at some essential cleaning tools every home should have, from the basics to more specialized tools to keep you updated.
A good vacuum
Powerful vacuum cleaners are considered essential tools for cleaning the house as they provide deep cleaning of different rugs, cleaning dirty upholstery furniture as well as fabric based furniture.
With the help of a good vacuum, you get access to eliminating dust and dirt that cannot be removed by other means of cleaning. The advantages of using a good vacuum for cleaning your home are clear; it can help you eliminate all sorts of dust, dirt, and pet dander while reducing the time spent on the cleaning routine.
A broom and dustpan
If you want to buy one of the essential tools for cleaning the house, a broom and dustpan are the best options. These items are considered invaluable when it comes to getting rid of dirt and dust from various surfaces. Each of these tools has a specific role while cleaning the furniture, home and upholstery cleaning.
For example, a dustpan is more suitable for cleaning small places, while a broom could be used to sweep up large pieces of debris. These tools are also helpful for outdoor cleaning tasks like sweeping the driveway.
A mop and bucket
A mop and bucket are the other essential tools for any homeowner's cleaning kit. Mops and buckets are practical for sweeping and removing any stains on surfaces with the help of water or other cleaning products.
When choosing the best type of mop and bucket, you should pay attention to your needs and the size of space you're eager to clean. For example, microfiber mops are good at picking up dust or stain from different surfaces. Buying the best quality tools will help you to get the best results in a shorter time.
Scrub brushes
When it comes to removing grime from small spaces, you must use scrub brushes. These pieces of equipment are essential tools for cleaning the house. Scrub brushes come in various sizes and shapes suitable for different places, such as tiles, showers, and countertops as well as for bathroom cleaning.
The first step in using scrub brushes is wetting the surface with the help of a spray bottle or a bucket of water. After that, apply an appropriate cleaning solution, then use the brush on the stained area until the dirt has been removed. Finally, rinse the area with warm water or a wet cloth and dry it with a clean towel.
Glass cleaner
When we talk about cleaning houses, you may come across different needs like essential tools and solutions. Glass cleaner is an example of these kinds of products, which are the primary cleaning tool for every home. It is important to have a cleaning product which will quickly and effectively remove the dirt and stains on windows and mirrors, unlike other products that may damage their surfaces. After using glass cleaner and removing any residue, wipe the surfaces with a dry cloth or paper towel.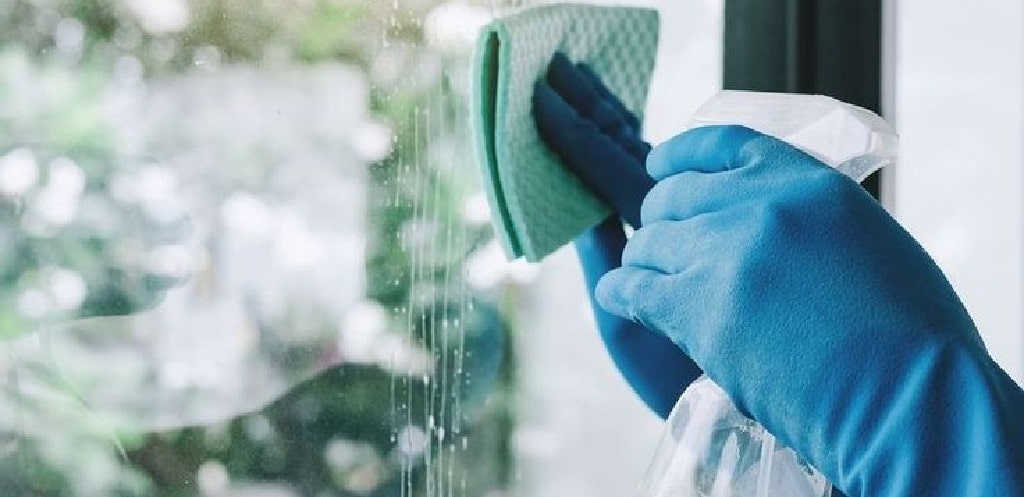 Gloves
Gloves are an essential cleaning tool for every home. They can protect you from any harmful chemicals, dirt and grime. Also, protect you from diseases that will be destructive by touching toxic chemicals. The other significant advantage of wearing gloves while cleaning is that you don't have to worry about encountering dirt.
Conclusion
The essential tools for cleaning your house are necessary for a clean and healthy home. But unfortunately, many people need help finding the right products for the job. That's why Brightex Residential Cleaning Services offers a comprehensive range of professional-grade tools and supplies to help you get the job done. So whether you need a broom and dustpan, mop and bucket, window cleaner or toilet bowl cleaner, we have you covered with our quality selection of essential cleaning tools, therefore contact us!
Many tools are necessary for cleaning the home, such as a vacuum, broom and dustpan, scrub brushes, glass cleaner, gloves and a mop and bucket.
Gloves will protect you from harmful chemicals, dirt and grime and keep your hands clean.
With the help of a good vacuum cleaner, you can eliminate all sorts of dirt and dust while reducing the time spent cleaning your routine.